Site Admin
Posts: 251
Joined: Wednesday 21st September 2016 2:22pm
Location: Guernsey, Channel Islands
---
Has anyone tried Innova desktop? The one written in Gambas?
---
Site Admin
Posts: 251
Joined: Wednesday 21st September 2016 2:22pm
Location: Guernsey, Channel Islands
If this is the one in the Gambas Farm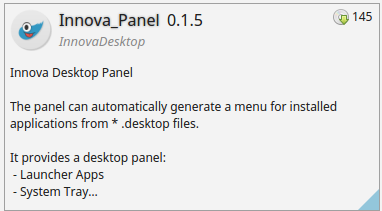 Then it crashes here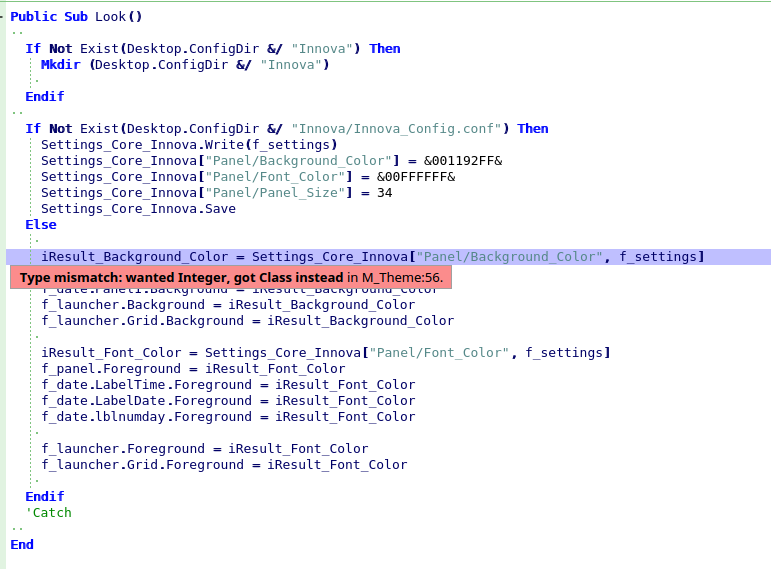 ---
Maybe he stopped developing it...
---
The project is still active.
I know that simply because my text editor gbEdit is part of edulibreos and so I am in regular contact with Herberth, the developer.
Want to know more, see:
https://sourceforge.net/projects/edulibreos-os/
There, you can download .iso files for amd64, i386 and i386 light to test the edulibreos.
There is also a link to a git repository if you want the source code.
Enjoy..
P.S. Note that there is no armhf .iso for use on Pi.
---
Ahh! That's more interesting

Thank you!
---
Just an update on the Innova Desktop project:
Hello everyone

Innova Desktop 1.3 Desktop Developed in Gambas3

Third version available for download Innova Preview 0.1.3
Available for now only Debia/Ubuntu systems.

Special thanks to Benoit, Fabien and Zainudin Ahmad.

I thank the people who have used and reported bugs Innova
I fixed several bugs reported.

- Custom panel.
- Modified Launcher and Aggregate Functions
- Anchor Apps to your panel and desktop
- New Themes (30)
- Settings rewritten.
- The appearance of the launcher was modified.
- Widget Clock was modified 0.2
- PcInfo Information of the System 0.5.1
- New gbTerminal 0.1.6 - Terminal emulator based on VT-100

External programs:

- New VisorRV1960 - (Biblia Reina-Valera 1960) 0.6
- New Higgins - Application launcher 0.7
- gbEdit - Text Editor 0.9
- Xt7-Player - Audio and Video Player 0.20
- Pintascreen - A screen of capture 0.73

Available in 3 languages
1. English
2. Spanish
3. French

Windows Manager supported:
Openbox, Kwin and Gala

The user you must have minimal Gambas 3.9

Regards.
Herberth Guzman
For downloading go to:
https://sourceforge.net/projects/innovadesktop/
Maybe the problems you had have been solved.
gbWilly
Author of the mentioned external program gbEdit

---
Do you have to run this DE from within a DE or can you go directly from TTY?
---
All you require is one of the above 3 mentioned window managers.
They then run the Desktop (Innova).

You can install it next to your regular desktop (I believe) and then choose what desktop you want to start (at least if your desktop uses one of the 3 mentioned window managers)

So, for example if you happen to run KDE then Kwin will be the window manager used by KDE.
Innova Desktop can also use Kwin and thus they can be installed next to each other.

P.S. Best approach is probably install a GUI-less fresh Ubuntu in VM, next install kwin or openbox, next install Innova Desktop.
---
I am giving it a try. The Gambas packager failed to create an install file on my laptop in Manjaro. Trying my other PC with Arch now. @Cogier, I realise you went for the wrong app. It is not the Innova Panel, but just Innova. The Panel is to be used inside the Innova DE

---